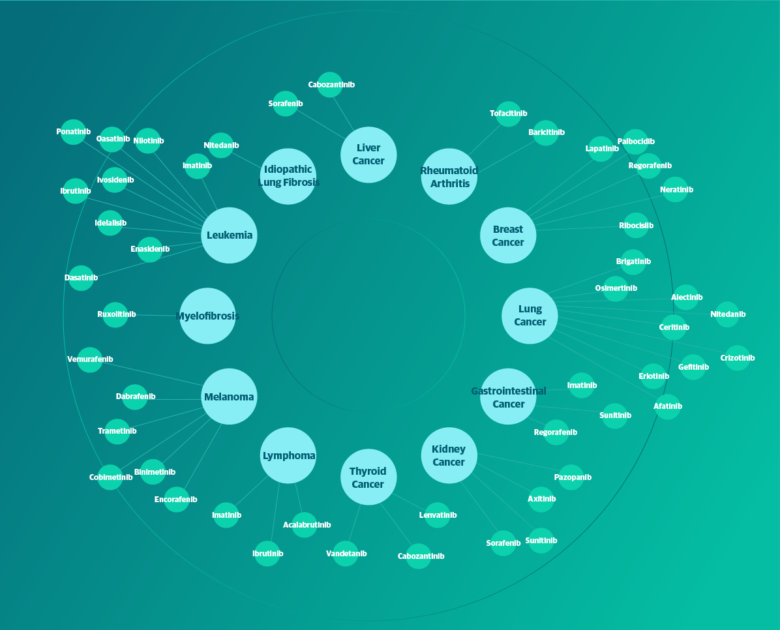 Three drugs leading the way
Xspray is focusing development on protein kinase inhibitors, PKI:s, that are used for treating a large number of cancer forms.
PKI:s account for 25% of the total market in cancer medicine. There are over forty PKI products, many of them with annual sales over one billion dollars. Xspray's technology has been tested on more than 20 formulations,  and has been shown to work in all cases.
Xspray has begun actual product development on three of them. These three are all so called blockbusters, with an annual revenue of more than one billion USD – Sprycel (dasatinib), Nexavar (sorafenib) and Tasigna (nilotinib).
Two of Xspray's amorphous counterparts (HyNap-Dasa and HyNap-Sora) has been put to review by well-reputed Swedish and American patent agencies, where both formulations have received formal Freedom to Operate analyses. The assessment is that the drugs do not infringe on existing patents.
Also, both candidates have moved into a clinical development phase, and have shown proof-of-concept (POC).
All three drugs have a well defined road to becoming approved, and HyNap-Dasa have already been confirmed by the US Food and Drug Administration, FDA.
The launch of these three drugs, which is planned between 2021 and 2024, marks the start for the development of a long series of similar candidates. Xspray has already identified at least twenty other formulations where the development and market establishment can use the same blueprint.