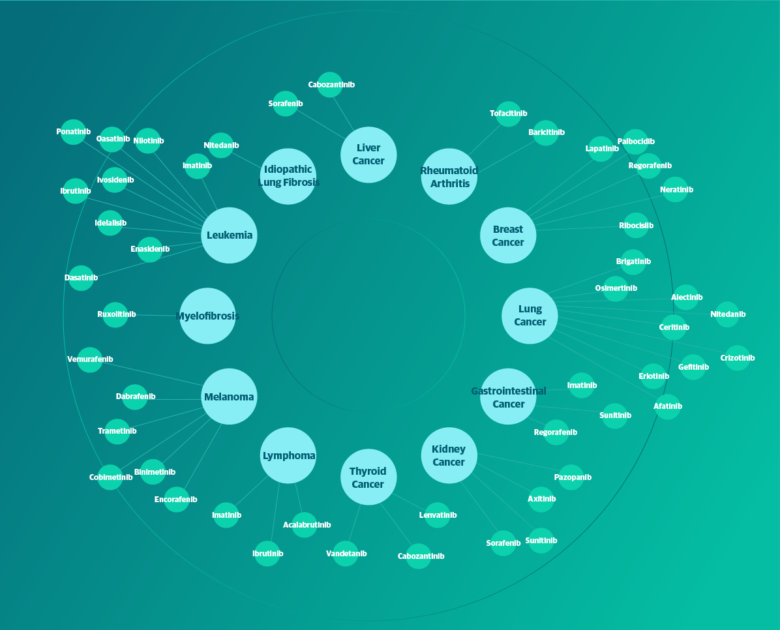 Product portfolio
Xspray Pharma's product portfolio is continuously evolving and, to date, has three announced product candidates based on the company's HyNap platform: XS004 dasatinib, XS003 nilotinib and XS008 axitinib. These are improved, amorphous versions of established and marketed protein kinase inhibitors with orphan drug status. The original drugs have secondary patents expiring between 2026 and 2030 and their total annual sales for 2020 exceeded USD 2.3 billion in the US market and USD 4.8 billion globally.
New projects will focus on the same indications as XS004 dasatinib and HyNap-Nilo as well as on other cancer indications. The development processes created with XS004 dasatinib and HyNap-Nilo will be applicable to the new projects allowing to significantly reduce development timelines.
XS004 dasatinib
Xspray Pharma has developed an improved version of dasatinib, XS004 dasatinib, for the treatment of chronic myeloid leukemia (CML) and acute lymphoblastic leukemia (ALL). XS004 dasatinib has achieved bioequivalence with a 30 percent lower dose compared to the original drug, Sprycel®. The study confirms that XS004 dasatinib:
• is unaffected by the pH value of the stomach and can thus be used together with omeprazole without affecting the absorption of dasatinib, which facilitates treatment of peptic ulcers while the patient is being treated for cancer
• yields a more even and consistent uptake of dasatinib in the body without those cases of low uptake that are linked to the reference product
• can be administered at a lower dosage than the reference product, which is expected to yield fewer side effects
The market value for XS004 dasatinib is high both during and after the end of the patent window. An application for US market approval for XS004 dasatinib was submitted to FDA under the 505(b)(2) NDA regulatory procedure, November 2021.
The primary patent for the original drug expired in December 2020 and the secondary patent expires in 2026, which could give XS004 dasatinib a favorable market establishment over several years with limited competition. In 2020, the global market for Sprycel® amounted to approximately USD 2.1 billion, of which the US market accounted for approximately USD 1.3 billion.
HyNap-Nilo (nilotinib)
Xspray Pharma is developing HyNap-Nilo as an improved version of Tasigna® (nilotinib) for the treatment of chronic myeloid leukemia (CML). Global sales of Tasigna® totaled USD 1,958 million in 2020, of which the US market accounted for USD 859 million.
Tasignas drug substance patent expires in January 2024, and the secondary patent in February 2029. Xspray Pharma has conducted a clinical trial that investigated the pharmacokinetic properties, and food interaction effects of a HyNap-Nilo prototype. The study showed that HyNap-Nilo significantly reduces food interaction compared with Tasigna® after a high-fat meal. Studies have also shown significantly higher bioavailability of HyNap-Nilo compared with Tasigna®. Development is progressing, with the target of conducting bioavailability studies that, in the event of positive findings, will form the basis of the application for market approval under the 505(b)(2) NDA procedure.
The US Food and Drug Administration has granted orphan drug status to HyNap-Nilo for the treatment of chronic myeloid leukemia (CML), in view of the fact that HyNap-Nilo addresses the food interaction that is included in the warning text for Tasigna® in the US.
The development of the commercial formulation is complete, and manufacturing of clinical trial materials is under way ahead of clinical studies that are planned for 2022.
HyNap-Sora (sorafinib)
Xspray Pharma has developed HyNap-Sora as an improved version of Nexavar® (sorafenib) for the treatment of renal cancer and liver cancer as well as several forms of thyroid cancer. Global sales of Nexavar® in 2020 totaled USD 729 million, of which the US market accounted for USD 194 million. Nexavars primary drug substance patent expired in January 2020, and the secondary patent in the US expires in September 2028. A pharmacokinetic study in 14 healthy subjects was conducted with HyNap-Sora 100 mg against Nexavar® 200 mg. The study showed that the bioavailability of HyNap-Sora was nearly double that of Nexavar®. The variability in both AUC and Cmax among subjects was also reduced by approximately half.
Xspray Pharma is holding off on the development of HyNap-Sora in favor of other product candidates in its product portfolio that show a higher market value.